Schedule your free informational tour to see if PlayDate Behavioral is right for your child by calling (719) 465-3989
Call to Schedule Your Appointment
Before your appointment, please print and fill out our Intake Packet. Be sure to bring the Completed Intake Packet, Insurance card, and Diagnosis Paperwork to your appointment.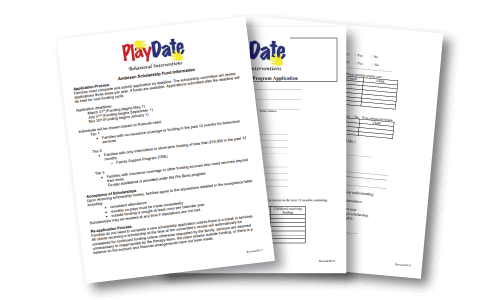 Please call with any questions about services or to complete a referral. Contact us at [email protected] or 719-465-3989.
Our Intervention
Services may be provided directly by a Board Certified Behavior Analyst (BCBA), a Board Certified Assistant Behavior Analyst (BCaBA), or therapists who are trained and supervised by a BCBA.
The therapists we employ are trained at several different levels of practice. Therapists complete at least 40 hours of classroom training in ABA and receive ongoing supervision/training. All staff members complete a training program with experienced therapists prior to providing any services, either at the center or in the home. When therapists provide direct services to a client, a BCBA develops programs, monitors progress, and makes necessary changes to the program. All staff members are supervised by a BCBA. This supervision includes meeting with the staff to review the client's program. Therapists may be rotated in or out of a schedule for various reasons, including attempts to increase generalizations.
Since every therapist may not be a "match" for every family, the BCBA working with your child will strive to achieve the best match between each child, family, and staff member.
Program Development
Program Development time is used to effectively build appropriate client intervention plans and skill-building programs that are specific to each client. Since we do not utilize a cookie-cutter approach, developing and maintaining each child's individual program requires time from various staff members. This ensures consistency of service provision among staff and parents. This time is also used to evaluate the effectiveness of the daily intervention, identify any needed modifications for future sessions, and meet with staff about the client.